A government report raises concerns that Nazi theology may not be a thing of the past.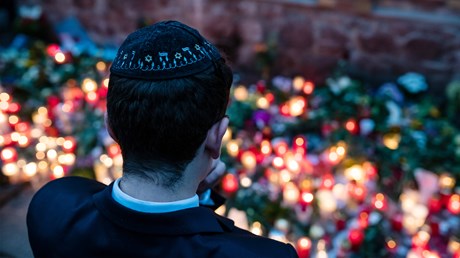 Baptists didn't talk about the Holocaust. Germans in general didn't talk about it after World War II, and Christians weren't any different. It didn't come up in churches, and even pastors and theologians didn't discuss what had happened.
"There was no 'theology after Auschwitz' until the 1970s or '80s," said Dirk Sager, an Old Testament professor at a Baptist theological seminary outside of Berlin. "It was a black hole."
The Baptists missed an opportunity to confront the truth, Sager thinks. They didn't take a stand against the antisemitism that had swept the country into Nazi horror. They didn't lead the way to a reckoning with the nation's sins.
"Baptists weren't much different than normal Germans," he said. "They repressed these memories or really didn't see their own guilt."
Today, Baptists and other evangelicals have made a range of efforts to oppose antisemitism, including "Israel Sundays," formal confessions, official statements condemning antisemitism, theological reflections on the relationship between Jews and Christians, and educational events.
Many German Christians are concerned, though, that they need to do more. A new government report indicates that a small percentage of the rising number of antisemitic attacks in 2020 were committed because of Christlicher Fundamentalismus, or "Christian fundamentalism."
Twenty-eight percent of attacks are committed by far-right extremists, some of whom invoke Christian imagery and claim to be fighting for family values. But a small portion is committed by people with no connection to nationalist groups, who act "based on their …